Synthetic Universal Automatic Transmission Fluid

Outstanding performance in domestic and import cars, trucks, SUVs and commercial vehicles .

See Retail Pricing Information OR Request a Quote From Us

Package sizes include:

1-Quart Bottle
1-Quart Bottles (case of 12)
1-Gallon Bottle
1-Gallon Bottle (case of 4)
2.5-Gallon Bottle
2.5-Gallon Bottles (case of 2)
30-Gallon Drum
55-Gallon Drum

| | |
| --- | --- |
| ATFQT-EA : 1-Quart Bottle | |
| ATFPK-EA Signature Series Multi-Vehicle Synthetic Automatic Transmission Fluid (ATF) | |
| ATF1G-EA : 1-Gallon Bottle | |
| ATFTP-EA : 2.5-Gallon Bottle | |
| ATFQT-CA : 1-Quart Bottles (case of 12) | |
| ATFPK-CA Signature Series Multi-Vehicle Synthetic Automatic Transmission Fluid (ATF) | |
| ATF1G-CA : 1-Gallon Bottles (Case of 4) | |
| ATFTP-CA : 2.5-Gallon Bottles (case of 2) | |
| ATF16-EA Signature Series Multi-Vehicle Synthetic Automatic Transmission Fluid (ATF) | |
| ATF55-EA : 55-Gallon Drum | |
| ATF27-EA : 270-Gallon Tote | |

Transmission Fluid Evacuation Service:
Bulletin From Filters Manufacturers Council (PDF File 16k)
ATF and Transmission Filter Change Procedures (45k PDF)
AMSOIL Transmission fluid recommendations for Cars and Light Duty Trucks
PRODUCT DESCRIPTION
AMSOIL Synthetic Universal Automatic Transmission Fluid (ATF) is engineered to outperform conventional automatic transmission fluids and exceed the performance requirements of most North American, European and Asian vehicles. This sophisticated formulation provides outstanding performance and protection in the severe operating conditions of today's most advanced transmission designs. Automatic transmissions have become increasingly complex as vehicle manufacturers strive to improve efficiency while satisfying consumer demands. Smaller, smoother-shifting transmissions with longer fluid-life capabilities and heavier load capacities are now standard in modern transmission design. Traditional ATFs, however, are unable to meet these extreme requirements, and new fluids have emerged with each new advancement in transmission engineering. AMSOIL first introduced a synthetic automatic transmission fluid in 1980 and remains the leader in transmission fluid quality. AMSOIL Synthetic Universal ATF is formulated with the highest-quality synthetic fluids and additives. It exceeds the most stringent industry standards and is universally recommended for a wide range of transmissions. AMSOIL Synthetic Universal ATF reduces confusion, misapplications and inventories. It eliminates the need for costly and suspect "one-treatment-coversall"
additives. The quality and performance of AMSOIL Synthetic Universal ATF is guaranteed.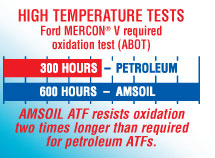 Exceptional Hot- and Cold- Temperature Performance
Thermal Stability – Hot temperatures are no excuse for poor reliability. Naturally heat resistant and heavily fortified with anti-oxidants, AMSOIL ATF exceeds the most demanding oxidation requirements. AMSOIL ATF delivers outstanding protection against sludge and varnish deposits that clog narrow oil passages and contribute to clutch glazing. Transmissions can operate hotter and longer with AMSOIL ATF than with conventional fluids.
Cold-Temperature Fluidity – Cold, thick automatic transmission fluid lengthens shift times and reduces energy efficiency (fuel economy). AMSOIL Synthetic ATF is wax-free and delivers extraordinary cold-flow properties (< -60°F pour point). Shifting is more responsive, energy efficiency is improved and warm-up times are reduced.
OUTSTANDING WEAR PROTECTION
Varying speeds and loads causes torque multiplication and extreme stress on gears and bearings. To prevent wear damage consistent with low-quality fluid and ruptured fluid film, AMSOIL formulated Synthetic Universal ATF with high film strength (shear stability) and premium anti-wear/extreme-pressure additives (boundary film barrier). AMSOIL Synthetic ATF protects transmissions during severe-duty service.
FRICTION DURABILITY
Today's transmissions are smaller and must withstand higher horsepower and torque while delivering smoother shifts, all with longer fluid life recommendations. AMSOIL Synthetic ATF is formulated with friction modifier additives that deliver outstanding clutch-holding capacity (static friction), torque-transfer ability (dynamic friction) and anti-shudder properties (slipping torqueconverter clutches).
EXTENDS FLUID SERVICE LIFE
Most drivers are unaware that transmissions commonly operate under severe service and require shorter fluid drain intervals. AMSOIL Synthetic Universal ATF is a long-life fluid capable of extended service intervals. It provides an extra margin of protection, especially when fluid change intervals are missed or during heavy use; even during abuse. Drivers can count on AMSOIL Synthetic Universal ATF to provide protection beyond conventional fluids.
APPLICATIONS
AMSOIL AMSOIL Synthetic Universal ATF is recommended for transmissions, hydraulics, power steering and other applications requiring any of the following specifications:
• GM DEXRON® III-H
• Ford MERCON® & MERCON V
• Chrysler ATF+4®
• Toyota Type T-III and T-IV
• Honda Z-1 (Not CVT)
• Diamond SP II & III (Mitsubishi/Hyundai/Kia)
• Mazda ATF-III, ATF-MV
• Subaru ATF
• Nissan Matic D, J & K
• Idemitsu K-17
• BMW LA2634
• LT 71141
• Audi G-052-025-A2 & G-052-162-A1
• Volvo 97340
• MB 236.1, 236.2, 236.5, 236.6, 236.7, 236.9 & 236.10
• JWS 3309
• NAG 1
• ETL-7045E, ETL-8072B & N402
• Voith 55.6335.XX (G607, G1363)
• ZF TE-ML 03D, 04D, 09, 14A, 14B, 14C, 16L, 17C
• Allison C-4, TES 389
*Not for use with CVT or Ford Type F applications.
SERVICE LIFE
Recommended for 50,000 miles in severe service* and 100,000 miles in normal service;* or per vehicle manufacturer-recommended intervals, whichever is longer.
*As defined by vehicle or transmission manufacturer
HEALTH & SAFETY
This product is not expected to cause health concerns when used for the intended application and according to the recommendations in the Material Safety Data Sheet (MSDS). MSDS's are available upon request at 715-392-7101 or on our website . Keep Out of Reach of Children. Don't pollute. Return used oil to collection centers.
TYPICAL TECHNICAL PROPERTIES

AMSOIL Synthetic Universal Automatic Transmission Fluid (ATF)

Kinematic Viscosity @ 100°C, cSt (ASTM D-445)

7.6

Kinematic Viscosity @ 40°C, cSt (ASTM D-445)

38.9

Viscosity Index (ASTM D-2270)

168

Flash Point °C (°F) (ASTM D-92)

234 (453)

Pour Point °C (°F) (ASTM D-97)

-53 (-63)

FZG Load Stage Pass (ASTM D-5182)
12
Four Ball Wear Test, Scar in mm; 40 kg, 75°C, 1200 rpm, 1 hr (ASTM D-4172B)

0.41

Brookfield Viscosity @ -40°C, cP (ASTM D-2983)

9800