Absolute Efficiency
Efficiency refers to a filter's ability to trap wear-causing contaminants and prevent them from circulating throughout the engine. Ea Heavy-Duty Extended-Life Oil Filters are engineered using full-synthetic media that provides an average filtering efficiency of 98.7 percent at 20 microns in accordance with industry standard ISO 4548-12, ranking them among the most efficient available for heavy-duty applications. Increased efficiency helps reduce wear for long engine life.
Less Restriction
Ea Heavy-Duty Oil Filters have lower restriction than conventional cellulose media filters. Their small synthetic fibers trap smaller particles and hold more contaminants, resulting in lower restriction. During cold-temperature warm-up periods, an Ea Heavy-Duty Oil Filter allows the oil to flow through the filter more easily than a typical cellulose filter. Lower restriction helps circulate oil more quickly, promoting long engine life.
Contaminant Capacity
A filter's capacity refers to the amount of contaminants it can hold and still remain operational. AMSOIL Ea Heavy-Duty Oil Filters have a high holding capacity for small, wear-causing contaminants.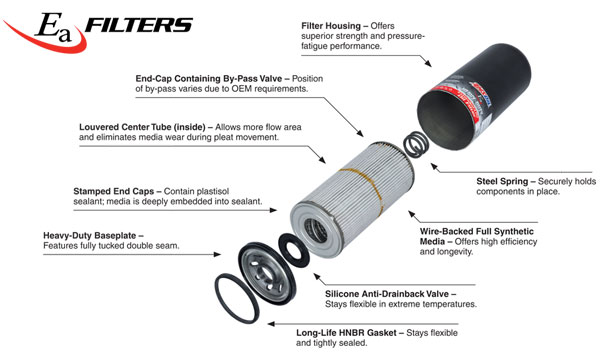 Superior Construction
Ea Heavy-Duty Oil Filters are made with premium-grade full-synthetic media. The strictly controlled processing of this media ensures accurate filter construction.
Over the service life of a conventional cellulose filter, hot oil can degrade the resins that bind the media. Ea Heavy-Duty Oil Filters full-synthetic media technology is resin-free. It uses a wire screen backing that is pleated with the media for superior strength.
Ea Heavy-Duty Oil Filters are constructed with HNBR gaskets that are fully tested over long durations in numerous severe environments. The filters also feature fully tucked seams, a molded element seal, roll-formed threads and a long-lasting, premium-grade silicone anti-drain valve.
Applications
Ea Heavy-Duty Oil Filters are recommended for heavy-duty on- and off-road gasoline and diesel applications including, but not limited to, over-the-road trucks; dump trucks; refuse haulers; school buses; farm tractors; mining, construction and industrial equipment; and more. Popular manufacturers include Caterpillar, Peterbilt, Mack, Kenworth, John Deere, Ford and several others. Consult the online HD Filter Lookup Guide for specific product recommendations.
Service Life
Ea Heavy-Duty Extended-Life Oil Filters should be changed at time of oil change, not to exceed one year.