*NO START-UP FEES*
After signing up, simply purchase AMSOIL motor oil and start doing 7,500 mile or greater oil changes. You'll make the same or greater profits with only half the time invested. Use that extra time to schedule more customers and double your profits.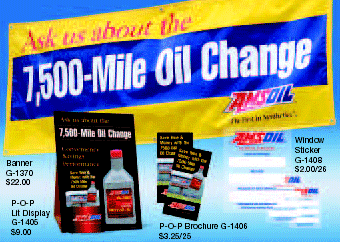 FREE ADVERTISING MATERIALS WITH 5 CASE PURCHASE OR 30 AND 55 GALLON DRUMS.
1) Large colorful banner(6' X 12')
2) P-O-P lit display
3) 25 brochures for waiting area
4) "7500 mile oil change" window stickers
Discount Programs:
Buying by the drum results in approximately 10% savings over buying by the case.
If your order totals $3,500- $7,499, there is a 50% discount on freight.
If your order is $7,500 or over, freight is free.
In addition to buying below Dealer wholesale, a Quick Lube account will qualify for additional credit after the first year as an AMSOIL reseller. This credit can be used for qualifying advertising or to purchase AMSOIL point of purchase materials and promotional items.
After one year:
3% Credit on every order $0-$7,499 purchased annually.
4% Credit on every order $7,500-$24,999 purchased annually.
5% Credit on every order $25,000 or more purchased annually.
Based on previous year sales
The AMSOIL 7500-Mile/Six-Month Oil Change Program brings value to your customers ...and profits to your bottom line.
"How can I make money if customers extend their oil drain intervals?"
The 7500-Mile/Six-Month Oil Change Program has been developed specifically for your profitability while providing passenger car owners with superior engine protection and performance. Statistics have shown that many motorists will say yes when you offer them the choice. "Would you like our $21.50 3000-mile/three-month oil change, or our $49.95 7500-miles/six-month oil change?" Consumers today are willing to pay more for quality and convenience.* The notion of extending drain intervals has become a controversial subject, and the fact that they can potentially double store revenues demands that there be open discussion.
Here are the facts:
1. AMSOIL synthetics have a much longer service life, hence they will protect engines for the entire duration of the manufacturer's oil drain recommendations, both normal and severe service, and beyond.
2. If you provide a higher quality product and charge a premium price, you can make more money with less effort.
3. If you make more money in half the number of visits, that means you can see more customers and thereby increase your annual profits.
The AMSOIL 7500-Mile/Six-Month Oil Change Program brings value to your customers ...and profits to your bottom line."This program is the perfect complement to my existing business."
* A variety of price models can be used to ensure your profitability. AMSOIL recommends charging two to two and a half times your current service price.