AMSOIL Introduces New Ea Air Induction Filters Featuring Nanofiber Technology for Maximum Engine Performance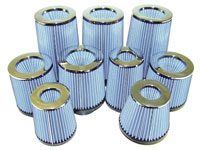 Superior, WI -- AMSOIL unveiled today its new line of universal air induction filters, designed to replace stock oil wetted gauze or foam conical filters typically supplied by K&N, Injen, Green, AIRAID, AFE, TrueFlow and more. AMSOIL Ea Air Induction Filters offer superior efficiency, excellent airflow and are cleanable.
Like other filter products in the AMSOIL Ea line, the new filters utilize nanofiber technology and were developed through partnerships with global filtration leaders. The collaborative effort has been orchestrated by AMSOIL with the aim of producing a filter unsurpassed in efficiency and service life. Key benefits of the Ea Air Induction Filters include:
• Excellent airflow without compromising filtering efficiency
• Superior construction and cleanable design for longer service life
• Unique design to increase surface area and air flow volume
AMSOIL Ea Air Induction Filters are available in nine styles with varying lengths and widths with flange IDs of 3", 3.5", 4" and 4.5" for universal fitment. Whereas intake kits were once sold only for performance applications, in recent years they have been marketed and used as a way to boost fuel economy in SUVs, minivans, trucks and more.